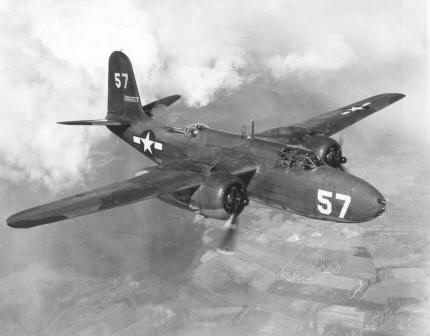 Douglas A-20G Havoc # 43-9821 crash in the Ivanpah Mountains near Mountain Pass, California, 24 January 1944
Summary: Four A-20G aircraft departed Daggett Army Airfield for Las Vegas on a cross country ferry flight. Just east of Silver Lake radio range, they encountered an unpredicted snow storm. Three of the aircraft turned around and headed back to Daggett AAF while the fourth crashed into a ridge, approximately 30 feet from the top.
So much snow had fallen during the storm that the A-20 remained lost until February 6th, about two weeks after it went missing. The aircraft had hit so hard that some parts were propelled over a half-mile. Because of the condition of the crash, investigators could make no reasonable determination why the plane crashed. They were able to determine that both engines were delivering power at the time of impact.
It is unknown why Lt. Bud Smilanich did not turn around, but crash investigators believe he tried to fly contact under the very low cloud ceiling until he came into the mountain passes, where visibility dropped to zero.
| | | | |
| --- | --- | --- | --- |
| | | | |
| The impact point. The A-20 crashed just to the left of the large shrub in the upper-middle of the photo- almost cleared the top. | Standing at the impact point and looking into the valley from where the aircraft came. | The main impact point. Most of the larger wreckage has been removed, including the landing gear and engines. | A close up of the impact area. |
| | | | |
| --- | --- | --- | --- |
| | | | |
| A cylinder head with the valves. | A bent exhaust manifold. | The portion of heavy armor for the cockpit. | A bomb shackle and heater for the electric flying suit. |
| | | | |
| --- | --- | --- | --- |
| | | | |
| Wing gas tanks, | Landing gear component. | Daggett Army Air Field, where Lt. Bud Smilanich had departed on that fateful flight in 1944. Many of the old WWII-era building still exist, although most are abandoned. | I took this photo of the hangars in March, 2008. One of the 65 year old hangars had just collapsed a few weeks before. |