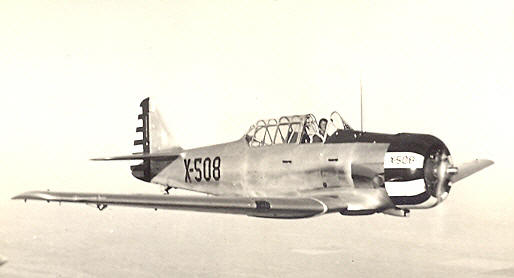 A Luke Field AT-6 flying over Phoenix, circa 1942. Luke Field airplanes are identified by the "X" on the fuselage.
North American AT-6D Texan, #42-84498, crash in the Sierra Estrella Mountains - June 20, 1945
Summary: Lt Robert Martin was cleared from Luke Field and authorized to fly a two hour navigational flight. When he was approximately 30 miles south of Phoenix, he changed his course to head west directly over the towering Sierra Estrella Mountain Range. As he entered a canyon, he was level with a saddle he intended to fly over. He began to apply throttle with the intention of having a 1,000 foot clearance over the saddle. As he began flying up a canyon to reach the saddle, it became apparent he was not gaining altitude despite the increased throttle setting. As he approached the crest, he realized he would not make it over the top and tried banking left to turn around, but his left wing struck a boulder and caused his aircraft to cartwheel and crash. The fuselage was torn loose from the center section, and with Lt. Martin still inside, rolled down 50 feet into a steep ravine and came to rest upside down.
Lt. Martin remembered nothing after the wingtip hit the boulder until he came to about an hour later and was sitting on a rock. He spent over an hour looking for his plane, but could find no trace of it. He hiked down the mountain and to a road that was over six miles away, where a motorist picked him up.
| | | | |
| --- | --- | --- | --- |
| | | | |
| The rugged Sierra Estrella Mountains. | The tube frame, exhaust manifold and engine parts. | The fuselage rolled down from where the saguaros are above. | The propeller mounts on the grooved crankshaft in the foreground. |
| | | | |
| --- | --- | --- | --- |
| | | | |
| The main gear, rear strut and miscellaneous scattered parts. | Lt. Martin's parachute frame and buckle he discarded. | The upside down tube frame. Tons of broken canopy glass is scattered about. | Avionics. |
| | |
| --- | --- |
| | |
| A portion of the instrument panel. The altimeter and turn and bank indicator. | A close-up of the altimeter. |