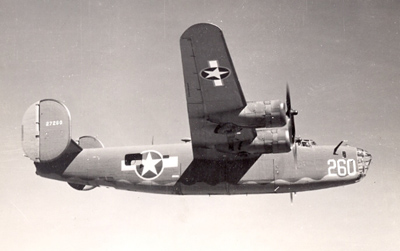 B-24D # 41-11769 crashed in the Guadalupe Mountains National Park on December 31, 1943
Summary: At 9:38 pm, '769' and her crew of three officers and two enlisted men of the 330th Combat Crew Training School departed Biggs Field in El Paso, Texas for a routine night navigation instrument flight. A little before midnight, the pilot radioed in that they were flying at 11,000 feet in the vicinity of Salt Flats. At 12:37 am on January 1st, Salt Flats radio attempted to contact the crew of '769' but was unsuccessful. Over the following weeks, aircraft flying search and rescue missions turned up nothing. Investigators suspected the bomber may have crashed in the Guadalupe Mountains, but recent storms had blanketed the peaks with deep snow. The mystery was finally solved on May 13, 1944, when a trapper discovered the wreckage in a remote and rugged canyon.
The crew: pilot, 2nd Lt. Robert Benjamin; co-pilot, 2nd Lt Gordon Pickering; navigator, Flight Officer Henry Fisher; flight engineer, S/Sgt Ewel Corley; radio operator, Sgt Lawrence Rabbitt.
| | | | |
| --- | --- | --- | --- |
| | | | |
| The Guadalupe Mountains National Park. | One hikes over 3,000 feet elevation and 5 miles to reach the crash. | Beautiful yet rugged mountains to hike over. | The first wreckage I saw in the dense forest. |
| | | | |
| --- | --- | --- | --- |
| | | | |
| A propellor blade with faded paint. | Wreckage is scattered over 200 yards. | Scattered debris. | Part of the national insignia on the wing tip. |
| | | | |
| --- | --- | --- | --- |
| | | | |
| The tail section of the fuselage. | The bottom side of the tail turret. | Tail turret hydraulic lines. | A .50 cal gun mount in the tail turret. |
| | | | |
| --- | --- | --- | --- |
| | | | |
| The inside of the fuselage and a dome light. | Camera vacuum supply line. | Radio interphone jack box. | "Model B-24D" data plate on this hydraulic cylinder |
| | | | |
| --- | --- | --- | --- |
| | | | |
| Large fuselage section with waist gun door. | Close-up on the door. | It still opens, and has remnants of the exterior OD green paint. | A .50 cal ammo cannister. |
| | | | |
| --- | --- | --- | --- |
| | | | |
| An engine cylinder from one of the Liberator's Pratt & Whitney R-1830 radial engines. | Landing gear support. | Bomb rack with hooks and a shackle attached. | Part of the tail section. It was painted yellow by the USAAF to mark this as a known wreck. |
| | | | |
| --- | --- | --- | --- |
| | | | |
| More debris. | A turn sprocket that raises and lowers the bomb bay doors. | Armored plate with the '32' prefix, identifying it as coming from a B-24 | More armore plating and a wing section |
| | | | |
| --- | --- | --- | --- |
| | | | |
| A tree has grown through the hole of the rib. | Closer view | Fuel pump | A torm-apart wing section |
| | | | |
| --- | --- | --- | --- |
| | | | |
| Nose gear. | Close-up of the nose wheel assembly. | open wing section with pulleys, hydraulic lines and cables. | Standing next to the wing. |
| | | | |
| --- | --- | --- | --- |
| | | | |
| The floor access hatch. | Aft fuselage section. | Main wing section. | On the way out- it was very cold with 35 mph winds as a front was moving in. |