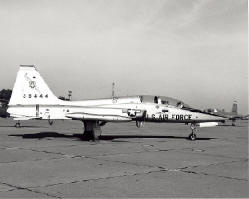 Northrop F-5A and F-5B Freedom Fighter midair collision 20 miles north of Sells, Arizona, July 10, 1968
Summary: Both aircraft were stationed at Williams Air Force Base and assigned to the 4441st Combat Crew Training Wing. In the F-5A was Captain Gary Dana, while in the F-5B was Instructor Pilot Captain David Dreifuss and Captain Arthur Powell. Both aircraft departed Williams AFB at 9:55am to practice air combat maneuvers. Shortly after the aircraft entered the training area and began dog-fighting, they collided at 19,000 feet. Neither Captain Dana in the F-5A or Captain Dreifuss in the F-5B ejected. Captain Powell ejected successfully and floated down a few miles from where both aircraft impacted high up on the side of a mountain. He was later picked up by local members of the Papago Indian tribe who saw him floating down and drove him back to Sells.
Due to the rugged terrain of the crash sites located in the Comobabi Mountains about 50 miles west of Tucson, it took me four expeditions into the area to finally locate the impact points in 2000. In fact, while searching for the planes, I came across the canopy and debris from another F-5 midair collision high on the mountain peaks that dated from 1982!
The F-5B Crash Site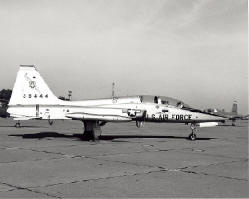 An actual photo of F-5B, 63-8444 taken in November 1966 at Williams AFB (B Baker)
| | | | |
| --- | --- | --- | --- |
| | | | |
| Looking down at the impact area in the middle-center of the photo. | The "Rescue" and "Danger, Rocket Ejection Seat" warnings from the fuselage. | The tail section. | The "Radio Call" data plate mounted on the instrument dash for the pilot to ID the plane. |
| | | |
| --- | --- | --- |
| | | |
| The compass and climb indicator. | Wing section. | Throttle assembly. |
The F-5A Crash Site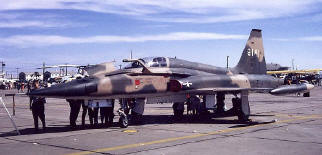 An actual photo of F-5A, 66-9141 taken at Williams AFB in October 1967 (S Robbins)
| | | | |
| --- | --- | --- | --- |
| | | | |
| The main impact area. Debris is scattered over a hundred yards. | Some portion of the aircraft with the serial number stenciled on it. | Part of the tip tank. | Imnpact point |