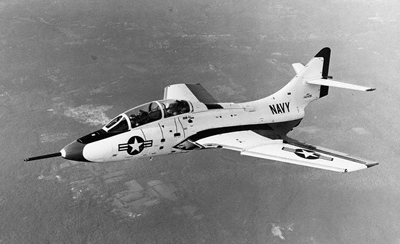 Navy Grumman F9F-8T Cougar #147380, crashed June 23, 1961, north of Indio, California
Summary: At 8:36 am on June 23, 1961, Lt. David Blackwood and LTJG Edward Shokes departed Miramar Naval Air Station on a scheduled flight that was to last for an hour and a half. The purpose of the flight was to re-familiarize LTJG Shokes with the aircraft. Soon after take-off, Lt Shokes checked in with VCP-63 base radio by stating his call sign (Royal Blue 941), and take-off time. Neither men were heard from again. At 10:48am, Miramar tower informed the squadron Operations Duty Officer that the aircraft was 43 minutes overdue. A search for the missing aircraft commenced and lasted for the next 10 days without success.
It wasn't until six months later on December 17 when prospectors in the Little San Bernardino Mountains came upon the wreckage on a steep mountain slope in a remote canyon. The next day, investigators went to the site and confirmed it was the long missing aircraft. They concluded that the aircraft had struck the ground while inverted, and that LTJG Shokes had just ejected but his parachute did not have enough time to blossom. Lt. Blackwood did not eject. They pointed out that engine failure was a possible cause.
| | | | |
| --- | --- | --- | --- |
| | | | |
| Lt. Edward Shokes | Lt. david Blackwood | The impact point high on the mountain. | Scattered debris at the impact point. |
| | | | |
| --- | --- | --- | --- |
| | | | |
| A parachute ripcord. | Part of a rudder pedal. | Grumman data plate. | Part of the instrument panel. |
| | | | |
| --- | --- | --- | --- |
| | | | |
| 'Low Fuel Boost Pressure' | The aircraft clock indicates the time of impact was at 9:22 am. | Part of Lt. Blackwood's canopy frame. | Part of the Pratt & Whitney J48 engine. |
| | | | |
| --- | --- | --- | --- |
| | | | |
| Next to a landing gear. | Part of a fuse chart. | Aircraft aluminum. | Data plate identifying the aircraft type. |