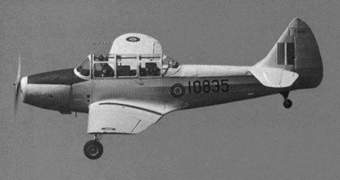 Midair Collision between Fairchild PT-26 Cornell aircrafts, 42-10767 & 42-10768, September 11, 1943, 30 miles southwest of Las Cruces in Dona Ana County, New Mexico
Summary: USAAF Lieutenants Claire Willet and Donald Francy were assigned to the 5th Ferry Squadron and were transporting the Canadian-built Fairchild PT-26 aircraft from Romulus Army Airfield in Michigan to their final destination in Tucson, Arizona. On the morning of September 11, 1943, the pilots were cleared from El Paso Municipal Airport in Texas for Tucson, on their final leg of the trip. The aircraft last reported in at 10:00 am flying over New Mexico and were never heard from again. Air Force search and rescue flights were flown daily in southern Arizona and New Mexico, as well as northern Mexico without success. The two crashed planes were later discovered September 18th, by a USAAF transport pilot near Mount Riley in New Mexico, about 40 miles west of El Paso. Both aircraft were found within 70 yards of each other, and although the exact cause of the crash was undetermined, investigators surmised the two aircraft collided in flight and spun in. A fair amount of debris remains at the crash site of 768, while very few parts remain at 767.
The U.S.-built Fairchild PT-19 and PT-26 Cornell were part of of the WWII Lend-Lease Program with many of the aircraft being sent to the RCAF (Royal Canadian Air Force) to train aviation cadets. By 1942, manufacturing of the PT-26 had been transferred to a Canadian company (Fleet Aircraft) in Ontario. During the remainder of the Second World War, the USAAF ordered over 1,000 PT-26 aircraft for its military training bases.
| | | | |
| --- | --- | --- | --- |
| | | | |
| Kneeling at the crash site of Cornell 768. | Scattered debris. | The part number confirms it as being a Fairchild PT-26 | Heavy cast aluminum from the engine. |
| | | | |
| --- | --- | --- | --- |
| | | | |
| The morse code telegraph. | A close-up shot. | Navigation light. | Debris. |
| | | | |
| --- | --- | --- | --- |
| | | | |
| Heavy cast aluminum of the wheel assembly. | Not sure what this is. | More debris. | An instrument case. |
| | | | |
| --- | --- | --- | --- |
| | | | |
| Top of the instrument case. | Heavy cast engine parts. | Instrument dials. | Close-up of the dial with Canadian manufacturing patents. |
| | | | |
| --- | --- | --- | --- |
| | | | |
| Wheel cover. | Instrument dials. | Cockpit data plate. | "The Ontario Hughes Owens Co. LTD, RCAF (Royal Canadian Air Force) |